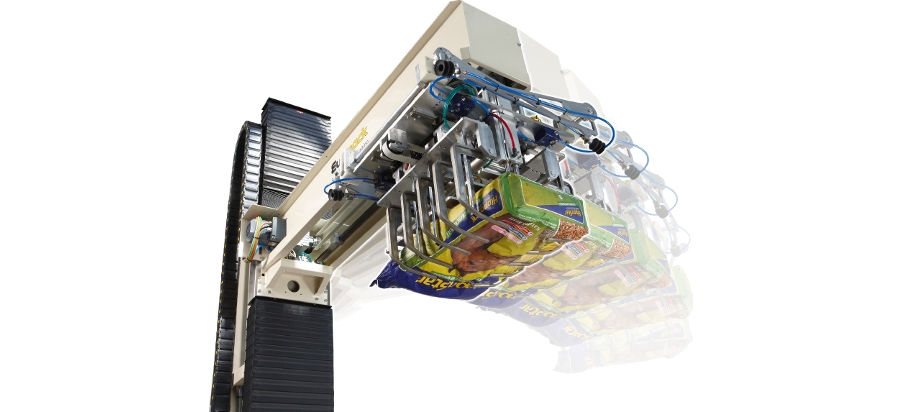 Winner / ER type Rotating Palletizer
The WINNER / ER type machine, palletises packed products. Its range of products varies from boxes to wrapped packages, cans, cases and bags. The machine is characterised by its very small dimensions.
The WINNER/ER robot revolutionizes the world of palletising with an innovative system which, instead of dispersing the kinetic energy in the form of heat during braking, it allows a recovery in the form of electric power, spendable again for the power supply of its electrical devices.
The controlling and recovery of energy costs system called K.E.R.S. (Kinetic Energy Recovery System) applied in response to a design technological evolution, allows an important "energy reduction for each palletising cycle".
Painted metal frame.
Base with toothed fifth wheel and coaxial reduction gear.
Vertical column with slipping guides for the arm.
Fixed arm with guides for carriage traverse.
Carriage slipping on the arm with fixing of product picking up head.
Product picking-up head rotating 360° on its axis.
Polyamide bellows to protect the vertical sliding guides.
Production lines served 1÷2 (with different product sizes simultaneously also).
Palletising pallet 1÷2.
Number of servocontrolled axes 4.
With WINNER 250/ER capacity of 240 ÷ 300 cycles/hour.
With WINNER 300/ER capacity of 300 ÷ 360 cycles/hour.
With WINNER 400/ER capacity of 360 ÷ 420 cycles/hour.
With WINNER 500/ER capacity of 420 ÷ 480 cycles/hour.
The maximum capacity of the robot is referred to continuous production, excluding dead times coming from the eventual stop of the robot during working phases.
SEW EURODRIVE gearmotors in A/C and inverter.