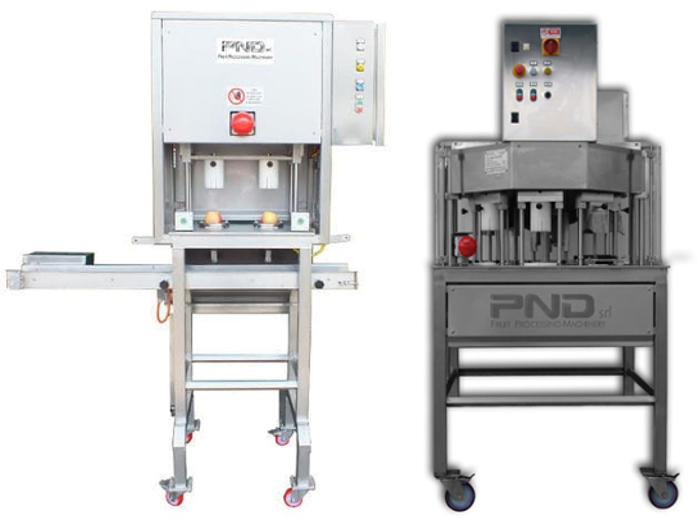 The universal cutting machine from two to eight processing stations model SS2/SS8 is suitable for fruits and vegetables. The semiautomatic machine at manual feeding allows cutting of apples, pears, kiwis, oranges, pineapples, melons, tomatoes, aubergines, courgettes, cucumbers, mushrooms, etc., in different shapes (slices, wedges, sticks, diamonds) and different sizes thanks to an easy and quick cutters & plungers replacement. The machine has a stainless steel structure. All components are easily changeable: all parts in touch with the fruit are made of food-approved material. Simple and fast cleaning & maintenance.
The machine processes different fruit and vegetables in the following forms:
Stick 8×8 mm, 10×10 mm, 12×12 mm;
Slices 5 mm , 6 mm , 8 mm , 10 mm;
Segments with and without core up to max 1/24;
Pepper cored and cut in 4, 6, 8 parts;
Pepper forms in 10x10mm. 20x20mm. 30×30 mm;
Potatoes segments; 2 to 24 wedges
Zucchini rings, sticks and slices.
Advantages:
– High cutting quality
– Very strong machine frame
– Small machine dimensions
– Simple and quick machine maintenance
– Easy sanitization
– Electrical board made according to CEE/IP 65
– Optional: Locking wheels